Hot-Air Seam Sealing Machine with Edge Trimming
Toria 8002
---
---
Toria 8002 - Hot-Air Seam Sealing Machine with Edge Trimming
Technical Specs
Excellent results in all kinds of fabrics, especially Woven-Lycra and Knitted fabrics.
It has an adjustable multi-program touch screen. There is a tension unit that can be adjusted automatically on the screen.
Precise cutting thanks to adjustable blade adjustment, Excellent cutting quality in stop and go, Long-lasting blade system, Air system blade slot cleaning system.
The speed of the lower / upper differentials can be adjusted automatically independently of each other.
Adjustable band slots.
High-tech resistance that can be adjusted up to 550°C and reacts quickly.
High-tech alarm and information system.
Easy adaptation to products thanks to adjustable pressure setting.
Adjustable belt preheat slot up to 80°C.
Hot air nozzle adjustable in three different axes.
Machine Information
Technical Specs
Toria 8002 is designed to be used for cutting the edges of fabrics while welding the tapes used in the manufacture of all kinds of seamless stitched garments and technical textile products.
Power

---

4.100 watt

Speed

---

5 mt/min.

Pressure

---

> 0.9 bar

Upper Wheel Width

---

15 mm

Lower Wheel Width

---

15 mm

Size

---

1200 x 710 x 1775 mm

Weight

---

150 kg

Maximum Temperature

---

550 °C

Band Prep Max Temp

---

80 °C
Contact Us
---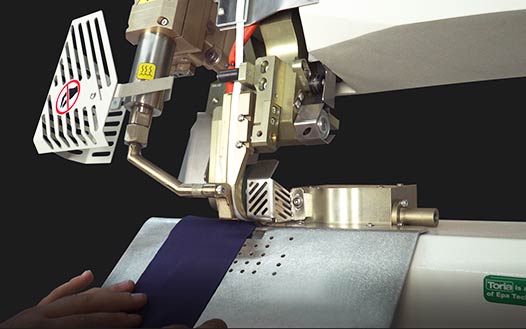 Watch The Video
---